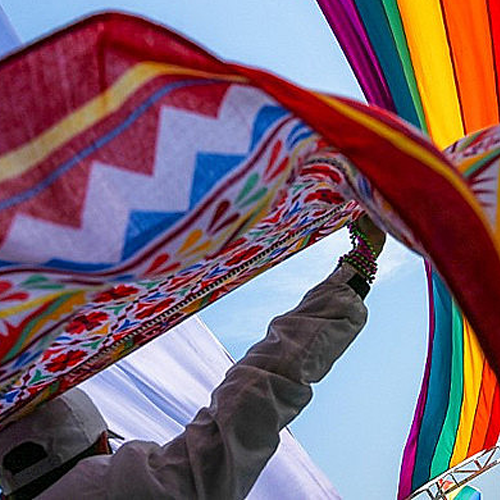 This working group aims to provide an intellectual setting in which graduate students and faculty can engage in interdisciplinary discussions on the specific ways in which gender and sexuality operate as categories of analysis and action in Latin America and the Caribbean. We seek to build a community of scholars in the Triangle area to explore how gender and sexuality influence crucial Latin American topics including revolution and violence, memory and trauma, movement and translation, as well as constructions of identity and community. The working group will function as a forum to promote the reading and discussion of key scholarly texts on gender and sexuality in Latin America and the Caribbean. We will include in our reading list those works written by the authors that we invite as guest lecturers. Another working group objective is to provide an respectful and intellectually enriching setting for graduate students to work on their papers, including grant proposals, and research papers. The group will also organize a film screening and discussion and a series of workshops and roundtable discussions focused on topics of interest to the wider community
Coordinated by:
Prof. Florence Babb (Anthropology, UNC, fbabb@unc.edu)
Prof. Pete Sigal (History, Duke, psigal@duke.edu)
Joseph Hiller (Cultural Anthropology, Duke)
Sydney Marshall (History, Duke)
Dani McIvor (History, UNC),
Emily Taylor (History, UNC)
Dr. Lorraine Bayard de Volo will discuss her work on revolutionary women in Cuba and Nicaragua. Dr. Bayard de Volo (University of Colorado, Boulder) will share knowledge and experiences from her decades of fieldwork experience researching on women's political participation during the respective revolutions in Cuba and Nicaragua. She will discuss how women's roles in these revolutions challenge the notion that social change is a predominantly male sphere.  Join us for a question and answer session on her work, where we will open the floor to audience questions.
Sponsored by the Working Group on Gender and Sexuality in Latin America and the Caribbean and Duke GSF studies. We will send out a link to the zoom meeting the week of 4/2.
A conversation on fieldwork in times of crisis. Dr. Virginia Garrard (UT Austin) will talk about her experience doing fieldwork in Guatemala during the internal conflict. We will then shift the evening to an interactive discussion about conducting fieldwork in times of crisis in the humanistic social sciences. During this event, we hope to discuss some of the immediate challenges of fieldwork in the age of COVID-19 as well as strategies to navigate other challenges during academic fieldwork.
A conversation on literary translation from a feminist perspective. How does translation illuminate diverse understandings of gender and sexuality? What are the relationships between translating, editing, and publishing and feminist activism, theory, and praxis? What challenges do translators, authors, and publishers face when trying to promote work by women, trans, and/or non-binary authors? Is translation a kind of border crossing?
Cristina Rivera Garza is one of the most prominent and important Mexican authors writing today. She works in both fiction and non-fiction, as well as translation. Among numerous awards, she's a 2020 Macarthur Fellow.
The text focused on was Grieving: Dispatches from a Wounded Country, written by Rivera Garza, edited by Lauren Hook, and translated by Sarah Booker, a PhD student in Romance Studies at UNC.
The Gender & Sexuality in Latin America and the Caribbean Working Group and Duke's Gender, Sexuality, & Feminist Studies Department will be hosting a discussion with Katherine Marino on her new book Feminism for the Americas: The Making of an International Human Rights Movement. Marino is Associate Professor of History at the University of California Los Angeles. Her book offers a history of Pan-American feminism, arguing that Latin American and Caribbean activists promoted a broad and influential understanding of "feminismo americano" encompassing not only women's political and civil equality, but also social and economic justice, anti-imperialism, and in the 1930s and 40s, antifascism and anti-racism.
Reading and discussion with Margaret Randall, "The Sandinistas, A Feminist Lens."

Margaret Randall is a feminist poet, memoirist, translator, photographer, and social activist. She is the author and translator of more than 150 books, including her most recent, an autobiography, I Never Left Home: Poet, Feminist, Revolutionary (Duke University Press, 2020). Randall lived in Nicaragua for the first four years of the Sandinista project (1980-1984). Among numerous honors, in 1990 she was awarded the Lillian Hellman and Dashiell Hammett grant for writers victimized by political repression and in 2004 was the first recipient of PEN New Mexico's Dorothy Doyle Lifetime Achievement Award for Writing and Human Rights Activism.
Watch the video of this talk:
In conjunction with the North Carolina Latin American Film Festival, the working group presents a remote screening of the film Las Sandinistas, followed by a Q&A session with director Jenny Murray.
Las Sandinistas is a critically acclaimed doumentary that tells the story of the women who fought in Nicaragua's Sandinista Revolution as well as their continuing struggle for justice. Contact Emily Taylor for more info.
Book discussion on Feminism for the Americas: The Making of an International Human Rights Movement by Katherine Marino. Feminism for the Americas focuses on the role of women in Latin America and the Caribbean in the fight for gender equality around the world.
Feminism for the Americas is available as an ebook through Duke and UNC libraries, or for purchase through UNC Press. As a reminder, UNC Press is offering a 40% off discount with the code 01DAH40.