Workshop participant works to create their own Maya codex using glyphs and numbers.
Humans have looked at the night sky for thousands of years to understand the world around us. Workshop participants took a journey in our Dome to see Latin American skies and listen to stories from indigenous Inca and Maya communities. Presentation was in both Spanish and English languages.
Saturday, Sept. 30, 2023 – The Consortium in Latin American and Caribbean Studies at UNC and Duke University held a professional development workshop for K-16 educators of North Carolina. The workshop, Southern Skies: Stories from Latin America was led by Dr. Gabrielle Vail, a Research Collaborator in the Department of Anthropology at the University of North Carolina at Chapel Hill. The day featured a live bilingual (Spanish and English) dome show, Southern Skies/Cielos del Sur at the Morehead Planetarium and Science Center. After the show, teachers were introduced to indigenous ways of knowing through a selection of brief readings followed by a discussion. Dr. Vail led the participants through the history of Maya codices and explained how to read Maya numbers and calendars. The workshop concluded with teachers participating in a hands-on construction of their own codex based on the script from the dome show. All participants were provided with resources to use in their classrooms and instructions for recreating the lessons with their students. This workshop aligns to several curriculum standards set by the North Carolina Department of Public Instruction.
Dr. Gabrielle Vail (left) speaks with workshop participants.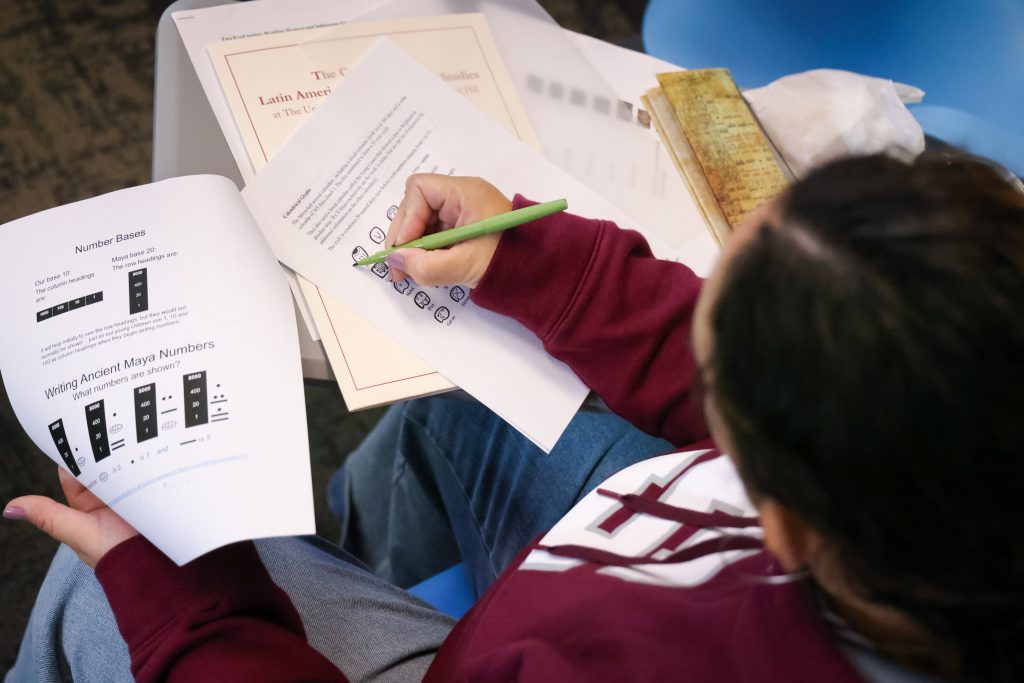 Workshop participant annotates their notes about Maya glyphs and numbers.
Southern Skies/Cielos del Sur resources for educators :
The lending library book collection: Southern Skies Workshop: Indigenous Ways of Knowing and Resources for Teachers can be borrowed free of cost via this google drive link.
Southern Skies Field Trip resources can be found here.
Workshop participant reads Maya Numbers and Calendars resource.
"I learned an excellent interactive assignment for my students and much more about indigenous science."
(Left) Several Southern Skies: Stories from Latin America workshop participants gather on the steps of the Morehead Planetarium and Science Center.
For more information about these resources, please contact: Skylar Zee, outreach coordinator, at zee@email.unc.edu.
This workshop was supported in part by grant funding from the U.S. Department of Education's Title VI National Resource Centers program. The content of this workshop does not necessarily represent the policy of the U.S. Department of Education, and you should not assume endorsement by the Federal Government.